Strive Financial Review for Potential Borrowers
This review of Strive Financial will provide an overview of who Strive are as a company and the secured lending solutions they provide. We will explore what Strive Financial requires from borrowers when issuing finance and the types of businesses who are best suited to working with Strive. As always, we'll also see if we've been able to find any Strive Financial reviews left by existing customers online. Read this review of Strive Financial and discover if this lender is a good fit for your business.
Strive Financial Review – Basic Figures for 2023
🌐 Website:
https://www.limbaloans.com.au/
®️ Logo:
📝 ABN:
75 625 878 220
📝 Credit License:
625 878 220
💰 Loan Amount
$15,000 – $3,000,000
⏲️ Loan Term
1 week – 36 months
💸 Unsecured Loans?
Strive is a Secured Loan specialist

Bridging loans and medium term loans can be secured against property or business assets

Long term loans must be secured against real estate in the form of a first mortgage

All loans require a viable exit strategy, this could be one of; loan refinance, cash flow injection or the sale of an asset/property.

Bad credit business is not a problem. No financials or credit check required

⌚ Lender Requirements

ABN
Operating for 6 months or more

📃 Required:
Your ABN Business Number
⏱️ Response Time:
Same-Day Decision
🌝 Easy to Apply:
Yes, fully online (expedited application here)
The Nitty-gritty
💌 Online Reviews:
None
🏆 Awards and Recognition:
None to date
💳 Minimal Interest Rates:
No upfront fees

Short-term loans calculated with monthly interest rate. Long term loans will present as an APR.

⚖️ Advantages

Provides finance up to $3million
No financials or credit check required
Experienced leadership team
Loans available up to 36 months
Diverse solutions and loan sizes
Business bridging loan specialist

⚖️ Disadvantages

No client reviews online
Long term loans require first mortgage
No upfront fees except valuation fee if required (i.e. second-hand assets)
Unsecured loans not possible

⚖️ Comparison
Compare Strive with 20+ Australian Lenders on Lend.com
Table of Contents
Company Story & Credibility
In 2018, Strive Financial was co-founded by three executive directors – Jonathan Lee, Kasey Lee and Cameron Garnham. As a group, they bring together legal expertise, business leadership, innovation, responsibility, and direct lending and borrower expertise. Acummatively they have over 45 years experience in the Australian business finance industry. From the Global Financial Crisis in 2008 to the boom and bust of the property cycle – Jonathan, Kasey and Cameron use the knowledge gained from these experiences to continually deliver results for clients and brokers.
Strive Financial brought together the bridging finance facilities formerly provided by Crown and Gleeson Business Finance and the medium-term loans issued from the former Australian Mortgage Fund into one company.
When the firm launched, Cameron Garnham commented, "The short-term loans we turn around in 24 hours with no financials, no tax returns, no back statements. It's a pure security loan, anywhere from one week to three to six months." According to Garnham, the key to the speedy turnaround is the in-house law firm, which handles all of the documentation from beginning to end. Strive Law is headed by Kasey Lee whose blend of experience and qualification expedites the loan process for clients and provides a unique point of difference from other lenders in the space.
It's worth noting that for long-term loans (12-36 months) a first mortgage is required. So whilst the mortgages don't require financials or tax statements, Strive does require an evaluation to be done, which can take two weeks to turn around.
Credibility Score:
⭐⭐⭐⭐ 
Strive Financial Lending Solutions 
Strive offers three types of lending solutions which are all based on a clear exit strategy and using assets to secure the loan.
Business Bridging Loans
Medium-term Business Loans
Long-term Business Loans 
Loan Value
$15,000 – $2,000,000
$50,000 – $250,000
$250,000 – $3,000,000
Loan Duration
1 week – 6 months
6 months – 18 months
6 months – 3 years
Financials Required?
No
No
No
Credit Check Required?
No
No
No
Type of Security Required
1st or 2nd mortgage. Chattel mortgage (i.e. car/trucks) or any business asset a charge can be registered against
1st or 2nd mortgage. Chattel mortgage (i.e. car/trucks) or any business asset a charge can be registered against
Must be 1st mortgage
Time To Funding
Fast as 24 hours
Fast as 72 hours
2 weeks as takes time to lodge mortgage on property

 
As can be seen, there is some crossover between medium term and long term loans but the idea is that any loan request for greater than 6 months which is more than $250,000 is deemed a long term loan and a 1st mortgage is required. When loans are for either under $250,000 or below a 6 month borrowing term, the borrower has more flexibility with its asset choices to secure the loan.
Strive's lending process is slick, streamlined and managed in-house. A typical application looks just like this: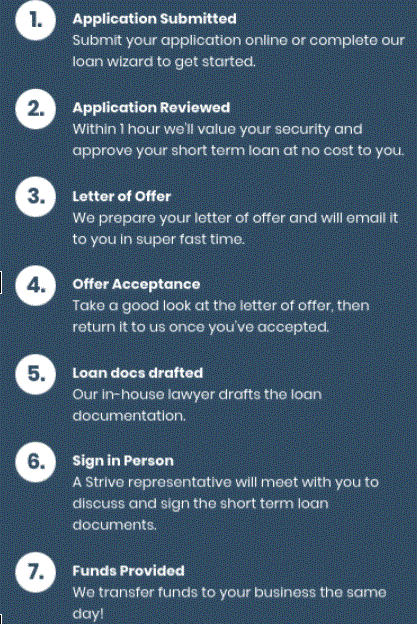 Product Score:
⭐⭐⭐⭐ 
Limba Business Loans Client Reviews
In Numbers
– TrustPilot Australia: No Reviews
– Google Reviews: No Reviews
– Facebook Reviews: No Reviews
The Feedback
There are absolutely zero online reviews of Strive Financial. No Strive reviews on the review platform TrustPilot (nor does Strive have a TrustPilot account) and there are zero Strive Financial reviews to be found on google. Strive does have a facebook page but there are even zero reviews here too.
There is, however, one customer testimonial on the Strive Financial website which explains "I have had a number of dealings with Strive Financial and would certainly recommend them for short term financial needs in the property space. Cameron, Jonathon and Kasey communicate exceptionally well and collectively operate with a high degree of promptness and professionalism."
T.K – PROPERTY DEVELOPER, WESTERN AUSTRALIA
Analysis of Client Reviews:
Considering we haven't been able to find any client experiences with Strive Financial from independent review sites, we simply can't recommend the firm in this category.
What we can say, however, is that the firm seems to have good PR and a respected leadership team. Its client testimony attests to this, as do the comprehensive director profiles found on strive.financial.
Client Reviews Score:
⭐⭐⭐⭐
Strive's Online Platform
Strive has a clear, concise and easy to navigate website. Information is featured on their three product offerings – short term business bridging loans, medium term loans and long term loans.The product capabilities are detailed and the eligibility criteria is clearly displayed so business will know if they have the required assets to attain a secured loan from Strive.
In addition to this, there's a wealth of information about the company's directors that are a core part of Strive's offering. Chances are applicants will be speaking with these very directors throughout their loan application. There's also a few pieces of content in the Strive blog which seems to be updated semi-regularly and provides information on what bridging loans are and how they're able to process loan applications in under 24 hours.
Website Score:
⭐⭐⭐⭐
Strive Financial Loan Compatibility
Startup: Yes, early stage businesses can be accepted.
Bad credit: One of the main reasons businesses opt for Strive is that a borrower's credit history is irrelevant. Debt payments can be funded.
Sole trader: Yes, Strive can work with sole traders.
Established business: Yes, Strive can provide loans up to $3,000,000
Turnover: There are no minimum turnover specifications.
Strive helps businesses in a wealth of different circumstances. 'Low doc' or secured bridging loans are often interpreted to be designed for businesses with bad credit or poor financials. However, this isn't always the case, it is also suitable for borrowers who are interested in speed or simply have assets or a property they can use to secure loans. For example, these types of loans are common in the construction and property development industry.
Compatibility Score:
⭐⭐⭐ 
Strive Financial Review Summary
Editor's Conclusions
Strive Financial has a small team of experienced directors that specialise in providing loans on a secured basis. As a result, it can be much more flexible with the types of businesses it can accept. All business circumstances are welcome, providing prospective borrowers have a valid business purpose for the loan and a clear exit/repayment strategy. This includes companies who have a debt burden to pay off.
Prospective borrowers who appreciate direct communication with the directors of the business and have either business assets or a residential property to secure the loan, are likely to benefit from engaging with Strive Financial.